SILVER
&
BRONZE
AWARD
At Easy Green we have made our primary goal the construction of technologically advanced houses in Greece that protect the environment and ensure a better quality of life for humans.
We are pleased and honored to announce that our dedication has been recognized and our company has been awarded two awards. A Silver Award in the category of Sustainable Design and a Bronze Award in the category of Sustainable Construction at the Wood Awards 2020 for the construction of the Passive Residence that we completed in Corfu.
The Wood Awards were organized by BOUSSIAS and are under the auspices of the Panhellenic Timber Association.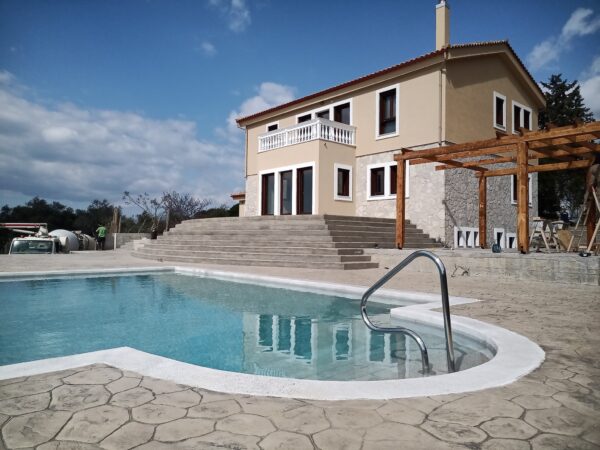 Among the projects that were distinguished are houses, public buildings, hotels, relaxation and wellness areas, cultural centers, in which the application of wood in their construction was carried out in an innovative and pioneering way, highlighting all the benefits of the most environmentally friendly building material. The evaluation of the projects was undertaken by a 12-member committee consisting of academics, experts and institutional representatives of the industry.
HONORED WORDS BY PROFESSOR PANAGIWTHS TOULIATOS
Chairman of the jury, Emeritus Professor Panagiotis Touliatos of the School of Architecture of the National Technical University of Athens, states in his greeting message:
"I was very impressed and surprised by the initiative of BOUSSIAS to organize this competition for wooden construction. I am grateful to this group, as well as to the distinguished collaborators who formed the jury, because despite the difficulties faced by all mankind, we are in an evolution and development of wooden construction. Wood is the only building material that is produced by nature, it is ecological and friendly to humans and the environment, as long as all the prescribed regulations and specifications are taken and applied.An important element is that it maintains a cage of carbon dioxide, which answers the significant environmental problems facing the modern world. Through the organization of the Wood Awards, an opportunity is given to highlight the wooden construction in our area, which is not so widespread.When the wooden construction is constructed correctly, then we result in buildings that can withstand hundreds and thousands of years. I congratulate all those who participated in the competition and I encourage them with all my soul not to stop here and continue. For my part, I promise to offer my help and support so that we can achieve the evolution of wooden construction ".
STATEMENT VIDEO OF WOOD AWARDS
In the following video you can see the statements of the members of the Jury and the Winners of the First Wood Awards: